Experimental Radio News 3
This issue concerns High-Frequency Trading (HFT) transmissions, and three prospective stations seeking entry into the International Broadcast service.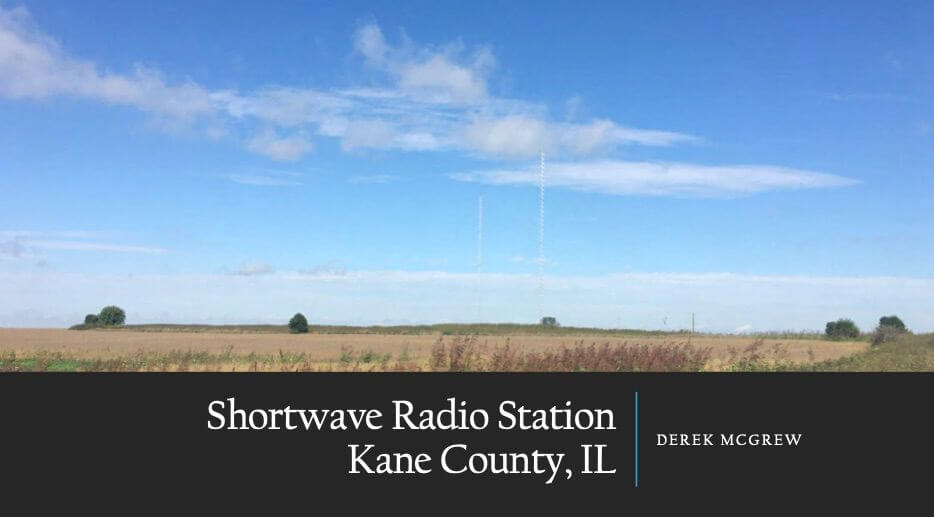 Several stations licensed in the Experimental Radio Service (ERS) transmit data for automated trading to foreign exchanges in the shortwave or high-frequency (HF, 3-30 MHz) spectrum.

High-Frequency Trading (HFT) is a form of automated trading that employs low-latency, high-speed telecommunications to minimize response times. The term is not related to the shortwave or HF spectrum, but this article concerns transmission of HFT messages on HF frequencies.
HF signals can traverse great distances by refraction from ionized layers of the atmosphere, a phenomenon known as ionospheric propagation. Several ERS HFT stations have operated in the HF bands for years out of the public view. Bob Van Valzah blogged extensively about these stations starting in 2018.
These ERS stations' licenses are public records, but the licensees typically ask the FCC to withhold access to station details and experimental plans. The Commission's routine acceptance of these confidentiality requests makes public oversight difficult.
High Frequency Broadcasting
Two HFT-related ventures, Parable and DPA Mac, have applied for licenses under Part 73F of the FCC rules for the International Broadcast service, also known as High Frequency Broadcasting (HFBC) — not the Experimental Radio Service where HFT stations now operate, ostensibly for research purposes.
A third applicant, Turms Tech, seems to be connected with HFT, but has avoided the topic in its interactions with the FCC.
The potential introduction of HFT in HF broadcasting involves policy questions the FCC has never faced in the more than half-century since the rules for this service were established. The Commission's decisions could radically change the international broadcasting service, by permitting private, nonbroadcast use.
HFBC today
Today's HFBC stations are owned by religious groups, or are commercial and supported mainly by airtime sales to evangelists. A prominent example is WBCQ in Maine, a commercial station with its largest facility leased to flat-Earth believers World's Last Chance.
WBCQ's massive rotatable antenna is one of a very few in the world, enabling effective radiated power of 20 million W from a 500 kW transmitter. The reported $30 million facility was funded by Galal Doss, an Egyptian religionist formerly on the board of A.T. Cross Co., makers of luxury pens.
Foreign persons are not eligible to hold FCC licenses. WBCQ is licensed to Allan Weiner, an American citizen.
In contrast to the existing HFBC licensees, none of the three new applicants have any obvious connections to churches, journalism or even broadcasting, though they say they intend to broadcast Christian content or business news. Their core mission appears to be HFT, that is, providing low-latency wireless data links to trading operations, with broadcasting as a pretext.
International data linking for private clients is not broadcasting — transmissions intended for direct reception by the general public (FCC §73.701(a)) — regardless of whether the content is analog or digital. Licenses issued to HFBC stations authorize broadcasting only. While FCC Rule §73.758 permits HFBC datacasting, it is only in the context of broadcasting to the public. No other service is authorized.
At the time of this writing, the FCC has made no public statement on shortwave transmission of HFT data.
ERS: A temporary home
No existing radio service or international shortwave frequencies are allocated for HFT. Because the Experimental Radio Service offers limited access to spectrum on a non-interference basis, it is the only current home for HFT operations. But it is a temporary home.
ERS is intended for research projects and not permanent business use. The HFBC service would appear to be the only alternative for commercial shortwave links, if the FCC can be persuaded to allow such usage.
Digital Radio Mondiale (DRM)
All three applicants have proposed to use, not the AM typically used on shortwave, but the Digital Radio Mondiale modulation technique. Under suitable conditions, DRM offers better audio quality than AM.
It is unlikely that the applicants chose DRM for its sound. They are probably more interested in another feature: DRM has a data channel which could be used for HFT.
Turms Tech's WIPE Radio
One of the three applicants is Paolo Cugnasca of Turms Tech, part of Turms Holdings, a subsidiary of Emcor Securities of New York.
A forestry entrepreneur, Cugnasca holds patents on sap-flavored water. His Vertical Water is a purported leader in the "emerging" tree-water category.
Turms requested callsign WIPE. It is so listed with the FCC. Although constructed with FCC permission, at this writing Turms has no license to operate this station. Its antenna is on a structure adjacent to the historic Armstrong Tower, also known as the Alpine Tower, in New Jersey.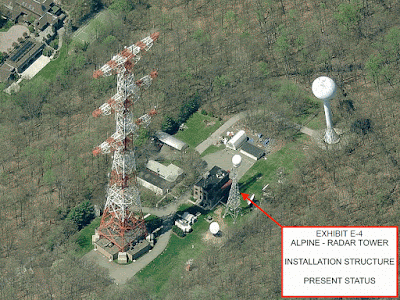 Turms told the FCC that it will engage in "broadcast and data services" and "broadcast of financial, economic news and data through distribution of programs generally prepared on the basis of requests by clients."
Turms has not clearly disclaimed any HFT role. So to clarify the issues, the FCC asked Turms questions on two occasions. Turms' contract engineer first answered the FCC in this document:
WIPE Q&A
Q: Clarification is requested regarding the audio and data content of the general service to be provided, if known?
A: Airtime will be sold to anyone interested in broadcasting his contents. Editorial line will focus on contemporary topics, no religious or political contents. More specifically the target we're looking for is global news and financial information, CNBC style programs.
Q: Will encryption be used in the transmitted signal?
A: No encryption will be used, this is a general broadcast.
Q. Will there be a contract for reception of the signal required?
A. No contract will be required for the reception.
Q. Will a DRM receiver be required for either or both the audio or the data?
A. A DRM receiver will be required for both audio and data.
Q. Will the proposed transmitter site receive other international HF signals to be rebroadcast on the intended operation?
A. No.
The FCC's question about contract is especially pertinent, as the FCC considers broadcasting to require no contract between transmitting and receiving parties. A private data operation would involve such a contract, for some kind of subscription or other fee for service.
On December 23, 2021, radio engineer Alex Pilosov submitted a detailed objection — his second — to the Turms application.
Pilosov wrote that "the directors and officers of TURMS do not claim any broadcasting experience, but certainly have substantial business experience, and are aware of the business of trading and data transmission.
"What TURMS claims," he told the FCC, "is that a company without any experience in broadcasting decides to construct the first International Broadcast station in 20 years dedicated to 'financial news' programming, and 'data broadcast to the general public,' foregoing any subscription revenues, but somehow able to recoup the setup costs by broadcast operations alone.
"The second possibility, apparent from digging into the facts and associated entities, is that TURMS instead lacked candor in its filings, and that its application for 'International Broadcast' is merely a pretext for private data transmission business."
If and when WIPE goes on the air — on 9.65, 11.850, 13.720 and 15.450 MHz — monitoring by the shortwave listening community should help establish the facts about any encrypted or otherwise nonpublic, nonbroadcast emissions from this station.
In a second round of FCC inquiries, Turms essentially repeated its answers from the first FCC meeting without directly addressing any possible plans for private data transmissions.
The company said it has "no relations" with an experimental shortwave station at the same location. That is WK2XJK, licensed to Rockland Wireless LLC of Chicago. Its principal is Bob Irvine of technology patent firm Invention Mine.
Parable Broadcasting
Another prospective HFBC licensee is Parable Broadcasting Co. LLC of Norfolk, VA, which would build what it called an "unmanned" and "rarely visited" station in Batavia, IL.
Parable's principal is electronic navigation maven Charles Schue. His site consultant Derek McGrew signed several of Parable's local government filings.
As with the other applicants, Parable proposed to use DRM. Eton, Tecsun, Kaito, Sangean and C.Crane, virtually the only remaining consumer shortwave receiver brands, have never made DRM receivers. Another manufacturer, Gospell, is "waiting for substantial orders" for its DRM product.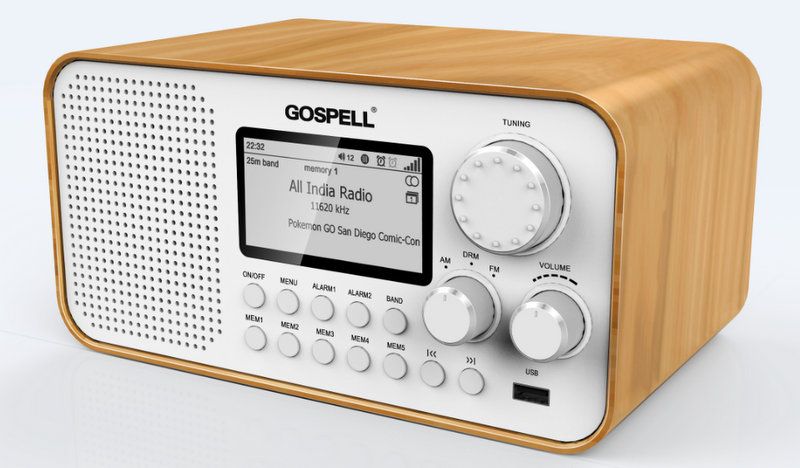 Yet in a meeting on January 5, 2022, Parable told the FCC that DRM receivers are "off-the-shelf and commercially available at major retailers serving consumers."
Indecipherable content
Will Parable's transmissions be broadcasts to the public? "With respect to datacast content," the company told the FCC, "Parable explained that it will also broadcast data content provided by third parties. ...
"A datacast content provider could deliver content that is encoded at times, i.e., it would be broadcast alongside the audio content, which is receivable by a standard DRM-compatible receiver, but the meaning of the content may be indecipherable to parties other than the content provider." (Emphasis added.)
A critical question is whether the FCC will believe that indecipherable content is a broadcast to the general public.
DPA Mac
DPA Mac of San Francisco is a venture of software executive and former Venrock entrepreneur-in-residence Seth Kenvin.
DPA Mac proposes to continue the operations of experimental station WI2XXG, but going forward as a HFBC station broadcasting "business information."
Why migrate from ERS to international broadcasting? The FCC now prohibits WI2XXG from engaging in stock trading, provision of services or "widely divergent and unrelated experiments" as a result of conditions the FCC placed on its license.

While DPA Mac did not mention HFT per se, in a December 3, 2021 FCC meeting it said, "Within and immediately adjacent to the DRM emissions envelope will be a supplemental, fee-for-service datacast optimized for low-latency transmissions.
"This supplemental datacast will be encoded and employ a proprietary modulation. DPA Mac intends to use revenue from the supplemental datacast to help offset some of the expense of constructing and operating the DRM broadcast station. ...
"DPA Mac will use purpose-built equipment to transmit, receive, encode, and decode the supplemental datacast for the benefit of fee-for-service customers."
No FCC rules permit supplemental, encoded transmissions by HFBC stations to private fee-for-service customers.
Reduced power level
FCC rule §73.751 permits a minimum power of 10 kW for DRM, obviously reducing costs compared to AM HFBC which requires at least 50 kW.
DPA Mac requested a waiver even of the lower 10 kW power level: "Technological advances have rendered a minimum power requirement obsolete, and DPA Mac's technological showing demonstrates that it can successfully operate at a much lower power of 2 kW," the company told the FCC.
Additional stations licensed
Meanwhile, the FCC Office of Engineering and Technology continues to license experimental shortwave stations. Recent examples include two in Illinois, home of CME Group (Chicago Mercantile Exchange).
These include WM2XHW, licensed to FalconION, Inc., which seeks to "develop new radio technique for reliably delivering short digital messages over long distances," and WH2XWU, licensed to County Information Services LLC (CIS).
This company told the FCC that "The business of wireless data transmission remains extremely competitive and a successful experiment would provide a significant benefit to CIS."
Few other details are available, as these stations' narratives are withheld from public disclosure.
More to come
I expect resolution of the issues, or perhaps a Notice of Inquiry or Notice of Proposed Rulemaking from the FCC sometime this year.
Perhaps the FCC will interpret, waive or simply ignore its existing rules to permit nonbroadcasting, clearing the way for these HFT applicants; or refresh the HFBC rules to accommodate such stations, or propose a new radio service and allocate spectrum for private international data links.
The recent FCC discussions cited above suggest that HF broadcasting has now engaged policy officials, and is no longer the obscure, technical "shortwave radio" backwater of yesteryear.
---
Thank you for reading, and please share ERN with colleagues. Subscriptions to the E-mail newsletter version are free. This site is now available at www.experimentalradio.news.